"Occasionally you meet people whose passion and drive are infectious. Bruce is one of those people. Over the years he has impressed me with his commitment to architecture and elevating the profession from many different perspectives. I was fortunate to be on a NAAB visiting team with Bruce and witnessed firsthand his encouragement to architecture students, enriching their education by volunteering his time and energy. We have also served on the Strategic Council together, where Bruce is clearly a thought leader when it comes to raising awareness for the profession of architecture. Finally, while he was Secretary of AIA, I observed his dedication to advancing the Institute's goals and initiatives while serving it's members."

Judy L. Johnson, AIA, LEED AP BD+C
Principal, Architect, Harriman
2017-2019 AIA Strategic Council, New England Region Director

I believe that together, we are better. The collective voice of the AIA can be powerful when leaders understand and reflect the values of those they represent. Believe me, I'm not running for AIA President because I have too much time on my hands or to build my (already full) resume. Rather, I feel strongly that there are three challenges that the AIA must address that reflect the needs of the profession and the values of the membership.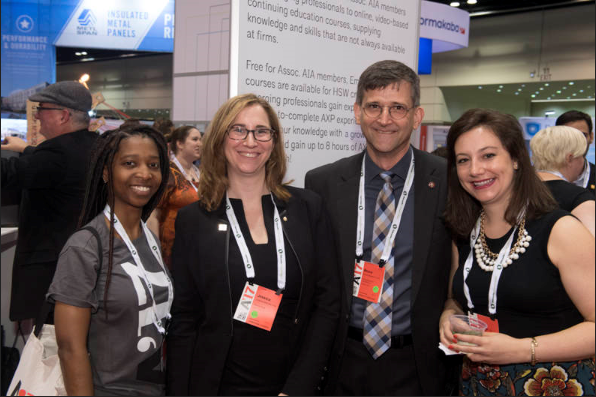 Challenge to Innovate.
Through design, we seek solutions for complex issues. We need to embrace and drive change that will allow our members to create new opportunities for practice. The prosperity of the profession relies on AIA continuing to connect value to design.
Be More than a Voice.
Our success relies on the support and engagement of all members. As architects we listen, but our true value is through action. Our profession must use the collective voice of many to ensure we remain relevant. We need to continue to be the voice of the profession, and the voice of all members, to lead, strengthen and improve communities through architecture.
Engage our Collective Experiences.
There is no substitute for experience, and I believe that together we can address upcoming challenges and embrace future opportunities. The AIA needs to reach out to develop leaders at all levels to advance our mission and expand our influence.
When you elected me in 2016 as Institute Secretary, you trusted me to help guide the path of the AIA.  This successful experience has been just one part of nearly three decades of AIA leadership and service that has led me to this moment. I'm asking that you put that trust in me again to lead the Institute as your 2021 AIA President-elect.